"Naloxone is for opioid medications like an epinephrine pen is for someone with an allergy."
"Reach for Me"  Is an introduction Video on Naloxone.  By watching this video we hope to increase awareness and education.   Seeing the big picture and problems many people have had to face, may bring forth compassion for those families who have lost a loved one from an overdose.  When this video was made there were 43,000 deaths per year in the United States reported from Opioid Related Overdoses.  Now according to https://www.networkforphl.org this number has moved to now 47,000 deaths from Opioid Related Overdose in United States.   Facing this crisis during an epidemic that continues to grow as a healthcare provider is nothing compared to living it.
Find out the Laws for each State regarding Naloxone Access
Immunity

Prescribers Immunity

Dispensers Immunity

Lay administrators

Lay distribution and possession

Prescribing permitted
GOOD Samaritan LAWS for all states can be found
– -》 Network for Public Health Law
☆☆Addressing the Drug Overdose Epidemic in the United States☆☆ 
JUNE 2,  2016 Spokesman Review reports Naloxone will be available without a prescription and OTC at Walgreen's pharmacies.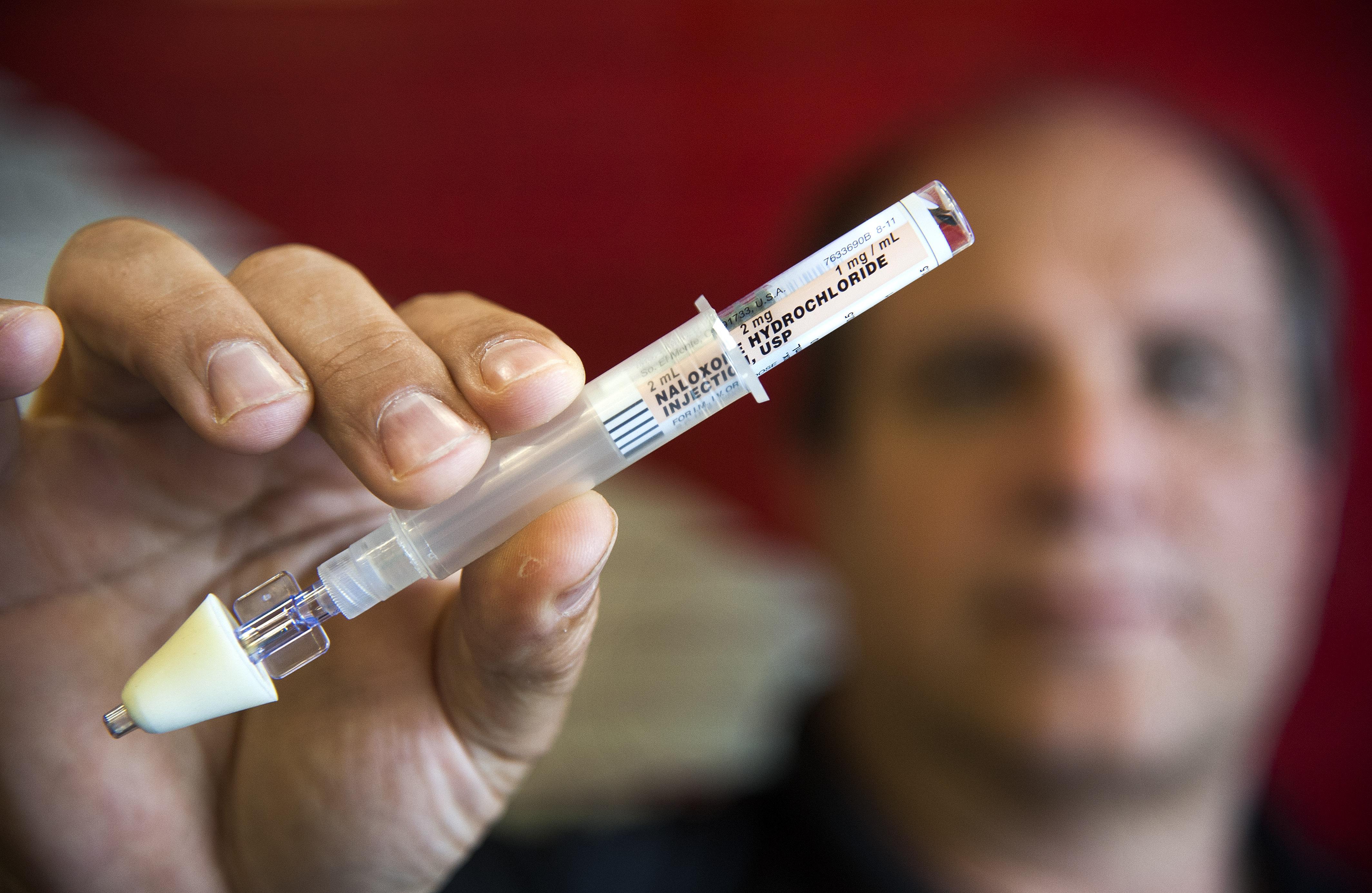 Local News☆☆
Spokesman Review     WEDNESDAY, SEPT. 21, 2016, 5 A.M.
Yakima Herald.com  August  29, 2016
Opioids in Yakima: Medication-based treatment gains traction
February 2016  Washington State Department of Health Patient Safety Quarterly 
February 2016 
2 Hr Frontline Special Report on the WAR on Drugs 
Learn more on Collaborative Agreement between Physician and Pharmacy for dispensing Naloxone in Washington State. Collaborative agreement between physician and Pharmacy for dispensing Naloxone.
Collaborative Agreement FORM  allows for Pharmacists the ability to offer and dispense Naloxone to patients.  Physicians are uncomfortable writing a prescription for Naloxone at the same time they are prescribing Opioids for pain management.  Physicians don't want to believe that the prescription they are writing could indeed cause a person to be at risk for a accidental overdose.  Pharmacists are trained and are very comfortable informing patients on the risks and side effects of drugs. Pharmacists do it best at educating patients on how to take medications properly.  This form is there to be used. It also speeds up the process by allowing the physician to only have to write one prescription instead of two.  Informed decisions are given by the pharmacist to each patient. The opportunity to purchase Naloxone that could save their own life is made more accessible.  Patient who are given a written prescription from their doctor are trusting that by picking it up at the pharmacy it is advised or needed and the rewards out-way the risks for taking the medication otherwise why would their physician write it for them.  All Medications prescribed have risks and some more than others.  This is why a prescription is needed in the first place. Otherwise, the medication would be available over the counter. Patients have the opportunity to be educated know the risks which allows them to make an informed decisions on purchasing and taking medication.  Example– Anti-nausea medication may be prescribed and offered to a patient by physician when there is a high risk or has experienced nausea while on a specific drug. Making the antidote NALOXONE available to the patient at the same time a Opioid prescription is given could save their life and should be available just the same.
Opioids cause mental illness  – Drug addiction now considered a medical condition 
5B-DSM-5 Opioid Use Disorder Diagnostic – Criteria PDF  (found in the 2015 Washington Opioid Guidelines PDF)
http://pcssmat.org/   MAT TRAINING / EDUCATION
Federal Guidelines for Opioid treament Programs  March 2015 PDF Substance Abuse and Mental Health Services Administration (SAMHSA), U.S. Department of Health and Human Services (HHS) http://prescribetoprevent.org/wp2015/wp-content/uploads/PEP15-FEDGUIDEOTP.pdf
News Release ☆☆ Medical Commission Suspends Medical Director of Seattle Pain Centers
Action impacts eight clinics throughout Washington July 15, 2016 for alleged violations of the Uniform Disciplinary Act and for violation of the Washington State Pain Rules.   FAQ and answers for patients of the clinics / Opioid withdrawal / Treatment 
Handouts / Resources / Links for Prescribing Naloxone Linked from Washington Department of Health website
Affordability and access to NARCAN® Nasal Spray are important priorities for ADAPT Pharma, and we have partnered with all major wholesalers, distributors, and retail pharmacies to ensure broad-based availability. For NARCAN® Nasal Spray, ADAPT Pharma has collaborated with major Pharmacy Benefits Managers and insurance companies (including Medicaid), to make sure the cost of NARCAN®Nasal Spray to patients and caregivers is reasonable and affordable.
Get Naloxone in your Local High School
Laws around contract spending  so your school CAN order and purchase Naloxone.
* US Communities  *http://www.uscommunities.org/resources/state-statutes/wa/ * Suppliers /Premier
https://www.narcan.com/pdf/NARCAN-Prescribing-Information.pdf
CME 
If you are a Nurse Practitioner or Physician Assistant interested in completing the required 24 hours of training for your MAT waiver training, you may take the 8-hour waiver training immediately. NOTE: The remaining 16 hours of training have been developed and are under review for CE accreditation. We anticipate these courses to be available in early 2017.

Please sign up here for email updates from SAMHSA regarding upcoming training materials for NPs and PAs.
For those that have experienced death of a loved one;  this next part is for those dealing with Grief.
http:// www.whatsyourgrief.com
http://www.whatsyourgrief.com/overdose/
The Grief of an Overdose Death: Part 1
Subscribe: iTunes | Android | RSS
Prefer to listen to your grief support?  Listen to our 'Surviving the Grief of an Overdose' podcast above.
If you thought the avoidance around death and grief in our society was bad, it is nothing compared to the avoidance of drug-related deaths.  Don't believe me?  Did you know that overdose deaths outnumber traffic fatalities in the US?  Did you know that someone dies every 14 minutes from a drug overdose in this country?  In 2011 data came out showing that prescription medication overdose deaths outnumbered heroin and cocaine deaths combined.  Overdose deaths outnumbered prostate cancer deaths and are nearing the number of breast cancer deaths.  Don't feel bad if you didn't know – that's the point.  We hate talking about it!
Even as we see celebrity overdose deaths, from Anna Nicole Smith to Michael Jackson to Cory Monteith to countless others, we don't like to face the terrifying
reality that addiction can touch anyone, anywhere.  We don't want to consider that even with more money for treatment than most of us could ever imagine, people still loose this battle every day.  And even when we hear the statistics, we don't want to think about the fact that there are real people behind those statistics – real lives lost and real people grieving.
As more and more people are touched by addiction, more and more families are left with the grief of an overdose death.  Yet the unique experience of grieving an overdose death is still pushed under the rug.  It hides out in the shadows.  It is veiled in guilt and shame and stigma and discomfort.   And this isn't just a social avoidance, academic research hasn't even faced this topic.  A 2011 article by Feigelman, Jordan and Gorman highlighted the astonishing lack of research in this area.  They noted that despite the significant impact of overdose deaths, "an exhaustive search for entries on grief or bereavement and overdose (or drug) deaths from Med-line, Psych-Info, and the Social Science Index yielded only two research notes on the topic. Both studies were done outside the United States: one a Brazilian study (da Silva, Noto, & Formigoni, 2007), and the other a British study (Guy, 2004)."  Say what?!  Two?? That's it?? Are you kidding?!
Okay, sorry.  I get a little fired up about this issue.  This year a close friend from high school died of an overdose.  My family has been touched by addiction from many directions and eight years ago my sister's boyfriend, who was more like family, died of an overdose.  I can think of far too many other friends and acquaintances who have died from drug overdose over the last 10 years.   Results: I get excited that International Overdose Awareness Day exists and I get infuriated that there is so little discussion about the unique experience of those grieving overdose deaths.
So guess what?  Today we are talking about overdose grief –partially inspired by International Overdose Awareness Day, partially inspired by the research of Feigelman, Jordan, and Gorman, partially inspired by my own experience, and partially seeking comments from all of you who have experienced overdose deaths and found ways to cope.  Let's talk unique challenges of drug-related deaths.
The Death Feels Avoidable
Much like suicide grief, there is a complexity in overdose deaths in that people feel like the death was somehow preventable.  This can created an array of complicated emotions, many of which can be linked back to this feeling or belief.  Many of the feelings below, including guilt, shame, blame, fear, and isolation all in some way can be correlated back to this.
Guilt
Though guilt can be a component of grief from many types of losses, overdose deaths can present many different types of guilt.
Friends and family may feel guilt that they could have, or should have, done something to prevent the loss.
Guilt that the family member suffered from addiction (i.e. a parent, spouse, etc feeling it is their fault the person who died developed an addiction)
Guilt if the death brings a sense of relief after years of addiction impacting family and friends.
Obsession over actions done/not done to support the person who died.
Shame
There is often a question of the difference between guilt and shame, but it is important to understand the distinction as these can impact someone grieving an overdose death.  There are many different ways you will see guilt and shame defined and contrasted against each other.  Here we mean this distinction as a contrast between a personal experience vs a relational experience.  Guilt is something we feel within ourselves, based on our own perception that we could or should have done in a certain situation.  Shame is something we feel based on our perception that others think we could or should have done something differently.  In the case of overdose death, shame can manifest in various ways.
Shame that the family member suffered from addiction (i.e. a parent believing others think it was their fault or they were a bad parent for having a child who suffers from addiction)
Shame for enabling the person who died.
Shame for not doing enough to "help" the person who died.
Shame for the person who died (feeling that others blame that person for their addiction and/or death, and hence are less worthy of mourning)
Please keep in mind that there is another definition/distinction you will often hear between guilt and shame – one that is actually common in substance abuse and recovery.  In this definition people say that guilt is the idea that one did something bad, whereas shame is the belief that one is bad. So, guilt is a feeling about an action and shame is a feeling about the self.  Clear as mud?
Though that is a very important distinction to make, it is not the way we are talking about shame here.  My experience with the word shame, and with the grief experience that accompanies it, is shame in the relational sense – shame that others are judging us or our loved one.
Blame
Though there is little research around the grief experience of survivors of overdose deaths, the study by Feigelman, Jordan and Gorman (2011) found a greater incidence of blame among and between parents of children who died of drug related deaths (as well as those who had children die by suicide).  This is both self-blame, as well as blame between friends and family members.  Though this is the first US research to officially document this, it seems pretty darn intuitive if you have lost anyone to overdose or known people who have.  Some common feelings that arise around blame are:
Blame toward those who used drugs/alcohol with the person who died.
Self-blame for the person developing an addiction.
Self-blame for the person's death.
Blame toward the person who died for their own death.
Blame toward family members for not preventing the death.
Obsession over actions done/not done to support the person who died.
In the Feigelman et al (2011) study, a tally of blame comments made to parents showed that 97%+ of blame comments were made in cases of suicide and overdose deaths, in contrast to 2-3% in cases of accidental deaths and 0% in cases of natural deaths.   64% of these comments were blame toward the child who died, with the remaining 36% of the comments blaming the parent.  Nearly 50% of parents who lost a child to overdose or suicide reported  blame comments being made by one or more of their significant others.  It is easier and easier to understand why people don't speak up about addiction and overdose deaths, isn't it?!
Stigma and Isolation
Though we know addiction touches hundreds of thousands of families each year, the family and friends of those experiencing addiction often suffer in silence due to the feelings of stigma, guilt and shame. When someone dies from overdose this isolation often continues from reluctance to talk about the addiction. This can result in:
Difficulty accepting the circumstances of the death (denial about drug involvement).
Reluctance to openly discuss the cause of death.
Reluctance to participate in support groups or counseling.
Hesitance to seek support from friends and family members.
In the same Feigelman et al (2011) study, 50% of parents who lost a child to suicide or overdose deaths did not find the support that they expected from their significant others, contributing to feelings of isolation.  People say stupid things to us all the time as grievers.  Overdose deaths can bring out some of those especially terrible comments that drive us further into isolation.  People make us feel this death is not as worthy of grief and mourning as other deaths, which throws it in the complicated category of disenfranchised grief.
Fear and Anxiety
Addiction is a devastating disease that is difficult to imagine if you have not experienced it within your family, friends, or community.  I struggle writing this to even put it into words.  It turns family members into strangers.  It pins friends and family against one another.  It devastates communities.  Once someone has lost a family member to addiction anxieties can arise (or increase) and become consuming:
Fear that other family members will start abusing substances.
Fear that others who are already using substances will also overdose.
Fear that others who are in recovery will relapse.
All of these anxieties can lead to mistrust between surviving family members and friends.   This anxiety can lead survivors to attempt to control those around them, trying to protect them from addiction and overdose.  These anxieties and attempts at control can become consuming if not addressed.
All of this sounding familiar?  Wondering what you can do to manage this devastating type of grief?  Check our Part 2 of this post here, where talk about some tools and resources for coping with the grief of an overdose death.  Don't forget to check out the International Overdose Awareness Day website.
Head over to our store and check out our print resource:  Surviving the Grief of an Overdose Death